Successful Geoparks engage wholeheartedly with their communities and businesses. Developing partnerships and networks across a Geopark brings a sense of ownership and provides opportunities for local specialities and cultural heritage to be promoted in a sustainable way.
1. Introduction
The key element of aspiring and newly designated Geoparks is to understand and to highlight the message that Geoparks are not just about geology – they are fundamentally about people and the links between them and the landscape in which they live and work. This is an important message which will help ensure the success of your Geopark. Early engagement with local communities helps promote involvement and makes residents and businesses aware of the potential tangible benefits of the Geopark designation.
Allied to this message is raising awareness of the significance of the UNESCO label, the values that underpin it and what it is seeking to achieve. Using local examples, you can highlight how the ultimate goal of a UNESCO Global Geopark is to use the designation as a vehicle to engage communities in protecting their heritage in ways which contribute to economic development of their territory.
To support this, the Geopark Management Plan should be drafted, agreed and implemented in partnership with local communities, in order to effectively meet the social and economic needs of local people and protect the natural and culture heritage. Community involvement can operate at many different levels, and depending on local arrangements you may wish to engage directly with, for example:
individuals, such as a local mayor or the landowner of an important site.
volunteer or other local community groups such as farmers' co-operatives, village hall committees or groups looking after geo-sites.
local political bodies such as regional, district or town councils who can assist with policy and/or financial support.
local businesses or trade groups which represent many local businesses.
Local and indigenous knowledge, practice and management systems needs to be included, alongside science, in the planning and management of the Geopark area.
It should be remembered that some Geopark partners in the community, such as micro-businesses, may be supportive of the Geopark aims, but have limited time available and so struggle to attend numerous meetings. Therefore, you may wish to develop alternative methods of communication that enables participation or increases wider stakeholder involvement.
2. Communities
Celebrating Earth Heritage, Sustaining Local Communities
A starting point to help communities is to raise awareness of the assets they can draw on to support Geopark aims. This may be best achieved by carrying out an audit of opportunities for the promotion and protection of their heritage.
Audits can actively involve community volunteers and so encourage collective responsibility and integration. Audits can cover many different aspects including:
sites which are unique or world class.
sites which support a network telling a geological or environmental story across the Geopark
locally significant monuments or architecture.
archaeological sites.
important cultural sites such as springs or wells with which myths and legends are associated.
In addition, an audit can:
investigate how sites and places can be accessed in a sustainable manner.
identify opportunities for interpretation, promotion or thematic trails.
Once the value of an area is recognised in terms of its geological, natural and cultural heritage, methods for communication and interpretation actions can be developed which are appropriate for the area. It should be remembered what works well in one area may not do so elsewhere. For example, a trail in a more urbanised area may not work so well in a rural area where assets are more widely distributed.
There are a wide range of potential outlets for information, some of which provide greater or lesser opportunities to raise funds within a community. For example:
developing and enhancing interpretation materials (panels, leaflets, mobile applications)
educational programmes on geodiversity and geoconservation perhaps using a local field centre
training courses and other technical support for public and private entities
using the regional media to spread information (newspapers, radio etc.)
In many areas, it may be possible to promote awareness of a range of geological hazards (like flooding, volcanoes, earthquakes and tsunamis). This can be linked, where appropriate, to local examples and so help raise awareness in communities of the impacts of human activities, encourage sustainable development to prevent making matters worse and help prepare disaster mitigation strategies among local communities. All of these can be important and effective actions for community engagement.
2.a Culture
Earth gave Mankind the resources and Mankind gave Earth a new meaning in return.
The Earth has shaped who we are, the human imagination and our perception and interaction with the natural elements. The result has been differences in our farming practices, building materials and methods, traditions, gastronomy, art and crafts, mythology, folklore, thus creating the vast range of human cultures and determining our Cultural Landscapes.
The connection between the physical (natural) and spiritual (human) spheres arises many times both from gradual evolution over time, and from sudden, natural catastrophic events. In many instances in the historical past, people did not necessarily understand what was happening to their environment but the cultural memory remains. For example, in Fforest Fawr Geopark, the folk memory of the transition from the Bronze Age to the Iron Age is probably captured in the legend of the Lady of Llyn y Fan Fach, whilst in the Azores Geopark, religious and socio-cultural events have deep roots defined in a succession of natural phenomena, mainly eruptions and earthquakes, which affected the local people, shaped their spirituality and motivated prayers, promises, vows and pilgrimages.
As part of your Geopark, you should look to find ways to present these stories, to explore and enhance this strong connection between humans and the Earth, protecting, safeguarding and celebrating the natural heritage and cultural identity, since presenting one without the other would turn them into pieces of a reality that cannot be fully understood.
2.b Local & Indigenous Knowledge
Local and indigenous knowledge, practice and management system needs to be included, alongside science, in the planning and management of the Geopark area.
Local & indigenous people have often lived for many years in harmony with the environment and took advantage of the resources locally available to aid and enhance their development. The skills and philosophies developed by their interaction with the natural environment represent the local and indigenous knowledge. Typically, this knowledge is constantly renewed and expanded since each generation reinterprets the knowledge of their forefathers in order to face the challenges of each generation and the opportunities in a continually changing world.
As a result, different generation have a unique viewpoint on their local environment, and Geoparks provide an opportunity to capture these "memories" for posterity. Folk memories can be captured through:
oral recordings,
musical scores,
written records.
Geopark projects can therefore be developed to support Local & Indigenous knowledge holders and can be investigated by researchers who can contribute the understanding of local knowledge in the context of wider regional or national cultural settings. The differences in temporal and spatial scale, qualitative vs. quantitative nature, or holistic vs. specialised character, are all complementary and provide great opportunities for promotion.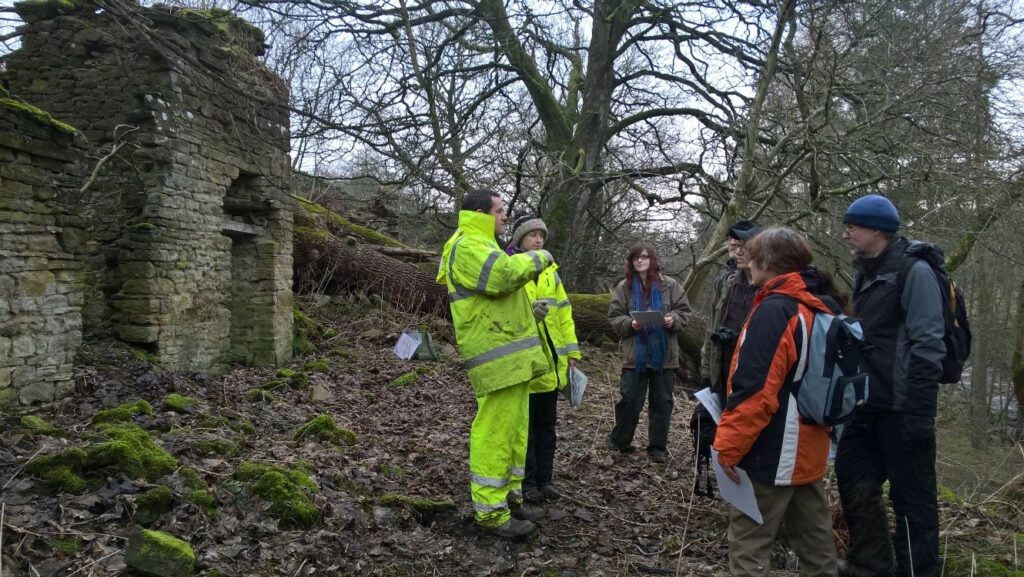 So recognising that both local and scientific knowledge forms are legitimate in their contexts may lead to great achievements for your Geopark. When local & indigenous people are partners in the development and implementation of management plans, they become crucial actors in research, monitoring and awareness-raising.
In their own right, local & indigenous people may also become main drivers for interpretation activities due to their intimate understanding and appreciation of their region, their history and stories, and so assist in sustainable development. With additional support through providing scientific information through educational or training programmes they can become excellent guides and interpreters of local knowledge.
Where possible, Geoparks should seek to develop activities to preserve, protect, research and promote this empirical knowledge and at all times actively involve local communities and indigenous peoples.
3. Businesses
The promotion of sustainable local economic development through sustainable geotourism is one of the key pillars of a UNESCO Global Geopark.
One of the main strategic objectives of a Geopark is to stimulate economic activity and sustainable development, mainly through the promotion of Geotourism. Although Geoparks are pioneers in Geotourism, its development requires the involvement of all sectors of society, including support from, amongst many others:
the regional or local government,
local people and communities
the private sector,
outdoor companies,
tour agencies,
restaurants,
accommodation providers
Geotourism, properly developed, can benefit all sectors of society. However, a critical element must be involved in the conservation management to enable the long-term sustainable use of the Geopark's landscape and heritage assets. This is why, for example, the commercial exploitation of fossil localities is not supported by the Geoparks organisation and new and aspiring Geoparks should be clearly aware that they should not be partnering with businesses which sell or exploit geological heritage.
Geotourism can take many forms with an emphasis on offering holistic experiences of the natural environments and combining this with outdoor leisure experiences, the sense of adventure and exploration and the opportunities for education. Such activities may not be necessarily run by the Geopark itself, but with a clear management plan, provide business opportunities for partners to develop new ideas linked to the geology of your Geopark. These may include:
Products – e.g. Geopark souvenirs, local handcrafts, etc.
Services e.g. guided tours, themed restaurants with local produce, etc.
Recreational activities e.g. museums, outdoor events, competitions, etc.
Conservation activities e.g. for volunteers or groups.
Collectively, these new business opportunities and products have the potential to generate more jobs for local communities, inspire new economic activities and enable additional sources of income. In the process it is important that your Geopark work closely with
tourism enterprises, to develop a sustainable approach to tourism;
tourism agencies to manage tourism at sites of high natural conservation value;
tourism stakeholders, promoting quality training programmes, providing tools for the understanding, valuation and interpretation of the natural and cultural heritage.
Depending on your Geopark's management structure, a range of options are available to engage with businesses. For example:
some Geoparks have developed partnership schemes allowing business enterprises to use the label "Geopark Partner" once they have signed up to a 'Code of Good Practice' and, in some instances, paid a subscription to retain membership;
other Geoparks have developed promotional campaigns through the establishment of "quality labels". These indicate that these businesses or products have achieved a standard of quality and sustainability which align with the values and principles established by the Geoparks.
In either example, the business enterprises contribute to the sustainable development of the Geopark area by emphasising the distinctive local identity and economic sustainability of the product through Geopark-supported marketing.
4. Disadvantaged Sectors of Society
Geoparks should seek to be inclusive in their activities so that sectors of society are not excluded from opportunities to engage within the Geopark.
There are many examples which Geoparks may wish to consider whilst developing their management and community programmes of involvement and engagement. For example:
A local community creating a Geotrail may wish to make the route wheelchair accessible. As a result, the project should consider slopes and gradients, path width with suitable and sustainable surfaces and design interpretation panels which can be read easily from a lower position.
Programmes to bring disadvantaged children from inner city areas to experience life in the wilderness. For some children this can be daunting as this is outside their usual experience, but with the right programmes and support, they can become champions for the Geopark on their return to their homes. Long term relationships could be developed between the Geopark and city schools.
Engagement with women and girls who make up half of the world's population and therefore also half of its potential. This may involve the empowerment of women and girls through educational programmes or the development of women's cooperatives, pursuing new lines of work and motivating women to get involved in the Geopark process.
5. Volunteers
Through education and volunteering used in an innovative way, Geoparks fulfils the tasks of awareness, community involvement and interpretation
Developing and hosting volunteering programmes / opportunities and local ambassador schemes is an important and effective way to deepen community engagement, promote a sense of ownership and of civic pride and a collective responsibility for protection and promotion of their local area and the wider assets of the Geopark. By raising awareness across the full spectrum of ages, Geoparks messages provide the opportunity to support individuals to become responsible global citizens.
Volunteers programmes should be developed to support the management plan of the Geopark and be mutually beneficial for both the volunteers and the communities in which the activities are based. Programmes can be designed to involve the full range of ages in any community (youth, schools, colleges and universities students, the retired and other age groups) who want to get involved, or can be targeted to support sectors of the community which risk being excluded, such as creating accessible trails for disabled people who may still wish to enjoy access to the Geopark.
For the volunteers themselves these programmes are a great way to:
discover more about the Geopark and the work that goes on behind the scenes;
use skills or discover hidden talents;
get involved in monitoring work,
support educational activities
participate in practical wildlife or geological conservation
participate and contribute in international events
become Geopark ambassadors.
Therefore the volunteer is offered the possibility to make a difference, gain skills and social recognition of their skills and creativity and in return, they support Geopark activities and operation.
6. The UNESCO Context
None of the top ten Focus areas for Geoparks address this topic directly but some do indirectly.
There are however important UNESCO and UN Sustainable Development Goals to bear in mind:
6.a Geotourism
The UNESCO vision of Geotourism is that Geoparks provide a mechanism that promotes holistic experiences of nature combining leisure, enjoyment and adventure with the acquisition of information/ knowledge, so opening the doors to business opportunities through the creation of new products linked with the geological heritage (geoproducts, souvenirs, handcrafts), services (geotours, georestaurants, geobakeries) and recreational activities (geosports, geomuseums). Collectively, these new opportunities and products generate more jobs for local communities, new economic activities and additional sources of income.
6.b Gender Equality
The achievement of gender equality and empowerment of all women and girls is one of the UN Sustainable Development Goals of the 2030 Agenda for Sustainable Development, and also integral to all dimensions of inclusive and sustainable development Geopark programmes and projects should reflect equal opportunities for all, ensuring women's full and effective participation and equal opportunities for leadership at all levels of decision-making, economic and public life.
7. Case Studies
The case studies showcase three separate Geopark-based programmes which support communities and enable business and job creation opportunities within the Atlantic Geoparks Partnership Area. You can use aspects of these examples in your own Geopark setting by adapting to practical and cultural norms.