One of the main strategic objectives of a Geopark is to stimulate economic activity within the framework of sustainable development. Alongside Geoconservation, engendering Sustainable Economic Development is one of the fundamental pillars for developing a Geopark within the UNESCO Global Geopark Network. All Geoparks therefore have a remit, with UNESCO's assistance, to foster socio-economic development that is culturally and environmentally sustainable.
Sustainable Economic Development has a direct positive impact on the Geopark territory by improving human living conditions and the rural and urban environment. It strengthens identification of the population with their area and stimulates "pride of place" and cultural development, which in turn encourages appreciation and direct protection of the geological heritage.
Contents
1. Introduction
Sustainable Economic Development is economic growth that attempts to satisfy the needs of humans but in a manner that sustains natural resources and the environment for future generations.
Similarly, sustainable development was defined by the World Commission on Environment and Development in Our Common Future (1987) as 'development, which meets the needs of the present generation without compromising the ability of future generations to meet their own needs.'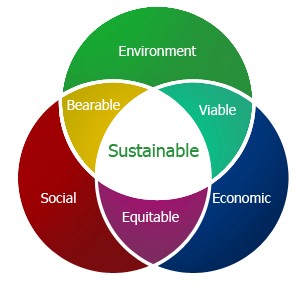 To understand the relationships which ensure sustainability, the social, economic and environmental issues cannot be considered in isolation. For example, an environmental improvement may have to be acceptable to residents and compatible with existing land uses whilst also being financially viable to carry out. Care must be taken not to exclude sectors of society who may not have access to financial resources to pay a premium for goods or services, so it is important to recognise that sustainable development outcomes also have to be equitable.
The principles of sustainable economic development apply not only to the Geopark as a whole, its management authority and partners, but they can also be applied at an individual project level.
2. Establishing Sustainability in a Geopark context
The establishment of a Geopark should be based on strong community support and local involvement, developed though a "bottom-up" process. It should demonstrate strong support from local political and community leaders, including in relation to the provision of necessary financial resources. The Geopark should have effective and professional management structures, deliver policy and action for sustainable regional socio-economic and cultural development across the territory where it is located.
Success can only be achieved through strong local involvement and "buy-in". The initiative to create a Geopark must therefore come from local communities/authorities with a strong commitment to developing and implementing a management plan that meets the community and economic needs of the local population, whilst protecting their cultural identity and the landscape in which they live.
3. Involving Communities
A Geopark shall involve public authorities, local communities, private interests, and both research and educational bodies, in the design and running of the Geopark and its regional economic and cultural development plan and activities. This co-operation will stimulate discussion and encourage partnerships between the different groups having a vested interest in the area and motivate and mobilise local authorities and the local population.
Sustainable tourism and other economic activities within a Geopark can only be successful if carried out in co-operation with local communities. Tourism activities have to be specially conceived to match local conditions and the natural and cultural character of a territory and must fully respect the needs and traditions of the local populace. Demonstrable respect, encouragement and protection of local cultural values, is a crucial part of the sustainable development effort. In many regions and countries, it is vital to involve the indigenous local population in the establishment of a Geopark.
4. Impact Assessment
A useful tool to demonstrate the potential effectiveness of any new proposal which is designed to promote sustainable economic development is to undertake an Impact Assessment (IA). ImpactAssessment is a structured process for considering the implications, for people and their environment, of proposed actions while there is still an opportunity to modify (or even, if appropriate, abandon) the proposals. It is applied at all levels of decision-making, from strategic policies to specific projects. Specifically, Impact Assessments ask the question: did our policy / project (or other planned intervention) have the desired impact?
A specific example is the use of "participatory impact assessment" to describe the process of engaging people and communities in assessing the actual impact of policy interventions on livelihoods.
The process involves the identification and characterisation of the most likely impacts of proposed actions (impact prediction/forecasting), and an assessment of the social significance of those impacts (impact evaluation).
IA aims to:
provide information for decision-making that analyses the biophysical, social, economic and institutional consequences of proposed actions;
promote transparency and participation of the public in decision-making;
identify procedures and methods for the follow-up (monitoring and mitigation of adverse consequences) in policy, planning and project cycles, and;
contribute to environmentally sound and sustainable development.
The process of IA benefits proponents, stakeholders and local communities, and decision-makers. The principles for IA practice tend to emphasise a participatory, inclusive approach, which recognises different types of knowledge, and the importance of representing the views of different groups in society, regardless of their economic and political status. Environmental and social justice, and distributional considerations, are important guiding principles of impact assessment.
The concept of "environment" in impact assessment has a wide definition, including the physical-chemical, geological, biological, visual, cultural, socio-economic and health components of the total environment.
Ideally impact assessment will be an integrated treatment of the likely impacts on any of the facets of the natural and human-modified environment, including people, communities and their wellbeing. However, in some instances it may be necessary to undertake an IA to address specific challenges raised by the need to assess impacts within certain sectors of the environment and/or to meet legislative variations: hence the development of procedures to carry out "social IA", "health IA", "cultural IA", "ecological IA" etc. All these forms of IA share the same basic principles, methodology and purpose, but may differ in specific methods and techniques. Further information can be found at: http://www.iaia.org
IA need not be an onerous or difficult procedure, and whilst not essential to carry out, it is good practice, particularly at project level. It encourages stakeholders to express their views and provides a useful mechanism to analyse alternative solutions if there is a potential issue that needs to be mitigated or resolved.
4.a Strategic Environmental Assessment
The need to apply IA to strategic levels of decision-making (e.g., policies, legislation, plans, programmes etc.) has led to the development of Strategic Environmental Assessment (SEA). SEA is generally understood as an impact assessment process that aims to mainstream environmental, social, economic and health issues and ensure the sustainability of strategic decisions. It is commonly encountered on large development projects and where there is a need to assess the impacts of policy documents such as local, regional or national Development Plans.
The European Union approved a directive on the environmental assessment of plans and programmes in 2001. The legal framework for SEA continues to evolve through case law. The SEA is gaining increasing acceptance as a tool that is used early in decision-making to help inform decisions at the sectoral and regional level and to set the parameters for analysis of alternatives.
5. Creating Sustainable Economic Opportunities
A prerequisite to any Geopark proposal being approved is the establishment of an effective management system and programme of implementation to develop the territory in a sustainable manner. The presence of impressive and internationally significant geological outcrops alone is not sufficient to be a Geopark. Where appropriate, the geological and non-geological features inside the Geopark area must be accessible to visitors, linked to one another and safeguarded though a clear responsible management body or partnership that has demonstrable local support. The management body or partnership should have an effective management infrastructure, adequate qualified personnel, and sustainable financial support to undertake its sustainable development remit.
Often, aspects of a region's cultural heritage are linked to the geological heritage. Respectful of the environment, the establishment of a Geopark shall encourage, for example, the creation of innovative local enterprises, small business, cottage industries, initiate high quality training courses and new jobs by generating new sources of revenue (e.g. geoproducts) while protecting the geological natural resources of the Geopark (e.g. encouraging production of replica casting instead of the sale of original fossils). This provides supplementary income for the local population and will hopefully attract private capital.
'Geotourism' is a useful umbrella-term to describe economic, success-oriented, and new tourist business opportunities in a sustainable economic environment involving strong multidisciplinary co-operation between earth sciences, geography, archaeology, biology, economy, management, tourism, environment, agriculture, forestry etc.). It is an innovative and holistic territorial approach for sustainable economic development in which Geoparks have a special and leading role.
6. The UNESCO Context
UNESCO Global Geoparks must be managed by a body having a legal existence recognised under national legislation. This management body should be appropriately equipped to manage the entire area of the Geopark and should include all relevant local and regional actors and authorities.
UNESCO Global Geoparks require a management plan, agreed upon by all the partners, that provides for the social and economic needs of the local population, whilst protecting the landscape in which they live and conserving their cultural identity. This plan must be comprehensive, incorporating the governance, development, communication, protection, infrastructure, finances, and partnerships.
7. Case Studies
The case studies showcase Geopark-based activities which promote sustainable economic development in their communities and across their territories. You can use aspects of these examples in your own Geopark setting by adapting to practical and cultural norms.