The target audiences of Geoparks are wide and varied. Geoparks aim to improve the well-being and quality of life of their local population through the three inter-linked sustainable development themes of considering the economic, social and environmental impacts and encouraging their improvement through partnership working.
Developing and growing the resources of the Geopark, with special emphasis on the geological heritage of international relevance, therefore lies at the heart of any Geopark's sustainable development strategy to encourage economic, social and environmental enhancements. This can be achieved through appropriate marketing and promotion of the Geopark and its natural and cultural assets.
Contents
1. Introduction
UNESCO Global Geoparks aim to support sustainable development mainly through geoconservation, geoeducation and geotourism actions. In order to improve these three areas of any Geopark's core business, it is crucial that the Geopark has visibility for a wide variety of stakeholders. Visitors as well as local people need to be able to find relevant information on the Geopark. As such, a Geopark needs to define clearly a strategy and action plan on marketing and promotion, which is integrated or aligned with the Geopark's Strategic Plan and its Action Plan.
The marketing and promotion strategy provides for communication and information actions using a mix of marketing tools to promote the communication between the Geopark territory, its managment authority, its partners and different public stakeholders including tourists, educational institutions and businesses,as well as the local population.
Geoparks are thus based on, and driven by, a model of developing a range of local initiatives that aims to involve local partners in a strategy of attracting external audiences, visitors, tourists and even specialists in various areas of life and earth sciences, social sciences and human or other areas of scientific knowledge. In so doing, Geoparks serve as living laboratories for experiments and the advancement and deepening of research and development. Geopark management authorities should therefore ensure that their marketing and promotion strategies have this understanding at their heart.
2. Understanding Markets
Bearing in mind the corporate purpose of each Geopark's management authority structure, its mission and vision for its territory, as well as recognising the overall concept of the UNESCO Global Geopark network, it is important to describe and analyse more precisely the various segments of the potential markets, which includes:
Schools and universities;
Tourist and visitors (national and foreign);
Scientists;
General public (local and regional community).
A good starting point is understanding the main motivations for currently visiting a Geopark, which could be:
Environmental, cultural and educational motivation

Check the values and traditions of its residents
Visit the geo-sites/geological heritage
Visit the historical / cultural heritage
Visit museums / Interpretative centres

Motivation related to fun and rest

Escape the routine
Rest and relaxation

Motivation related to research and instructive teaching

On-site contact with geological phenomena
Living science
Field trips
Contact with nature
Conducting internships and scientific research

Sociological and psychological motivation

Adrenaline and adventure
Ethnic and cultural motives
Visit the family's country of origin
Visit by influence
Visit places that family or close friends have already visited

Professional and economic reasons

Participate in conferences, meetings, exhibitions and fairs etc.
Within the overall strategy framework for marketing and promotion, a Geopark management authority must bear in mind that it will need to work on two fronts:
Widepread (global) marketing (e.g. within and outside the Geopark territory)
Targeted marketing (e.g. institutional / company marketing)
These two different marketing approaches are used to create a stronger connection to the Geopark area, its communities, management authority and ultimately with UNESCO.
Remember: The UNESCO Global Geopark brand should be broad-based and encourage loyalty, captivating the interest of the visitors and tourists. The Marketing and Promotion strategy should be highlighting the Geopark "offer" of the range of different facilities, products and services which are available, promoting not only those offered by the Geopark management authority structure itself, but also by the partners and local agents within the Geopark territory.
3. Destination Management
To market and promote geotourism, a clear Destination Management Organisation (DMO) may be an option to consider developing within the Geopark. The remit of a DMO will need a clear and robust holistic approach, where many aspects of a destination are managed via a coordinated process. Such a DMO can include managing:
marketing,
local accommodation,
guided tours,
local and regional events,
activities,
attractions, and
transportation.
The aim is to ensure tourism has a net positive effect on the destination, and this means maximising the benefits through optimisation of both supply and demand.
Sometimes the Geopark management authority can be an effective DMO. In other instances, it may be more appropriate to have a separate body under the umbrella of the Geopark management or local tourist board. Destination Management Organisations are typically membership-based, with members including government figures, local businesses and others in the travel industry.
A DMO may use a wide range of marketing techniques, including:
display advertising,
content marketing,
social media promotion,
offline advertising and
experiential marketing.
There are many different types of destination, so destination marketing efforts may consist of country-wide (national) marketing, city marketing, or specific Geopark marketing. A common approach is to have a regional tourism board which covers a a specific geographical region. As such, the Geopark marketing strategy may have to recognise that it "sits within" or is one component part of a wider regional promotion.
Any promotion and marketing needs to be based on a strong communication-mix strategy using a variety of digital platforms, the internet, television and radio, information points, leaflets, signage, interpretation panels and other communication methods in a sustainable way.
4. Websites
The website of every Geopark is one of the most important tools to communicate the importance and relevance of the Geopark area, including its:
resources,
heritage,
services,
facilities,
geoconservation, geoeducation and geotourism actions and opportunities.
A dynamic, relevant and up-to-date website focussed on visitors is required in different languages to provide information about the holistic characteristics of the Geopark territory as a tourism destination including its:
geology and geodiversity,
topography and geography,
archaeology,
biodiversity and, of course
tangible and intangible cultural heritage.
Where appropriate, the combination of the Geopark and Destination Management process chain will integrate local entrepreneurs, companies, public administration and other local organisations on the Geopark website. As such it must also include location and information on tourism and interpretative centres, accommodation, restaurants, local shops etc.
An institutional area in the website is also recommended with links to show the management structure, links to the other partners in the Geopark and also to other UNESCO Global Geoparks. It is also important to have a Contacts page so that different stakeholders can directly contact the Geopark officers as necessary.
5. Social Media
Social media are digital based technologies that facilitate the sharing of ideas, thoughts, and information through virtual networks and communities. Many Geoparks use these platforms to communicate daily with the wider public and it is a way to promote, inform and involve the public, often across different age ranges, in Geopark actions, activities and events. In reality, different social networks attract different age groups and users so consideration should be given as to which platform to use to target a particular audience.
When creating a social media account, it is good practice to try and obtain a user name that aligns with your existing Geopark brand and/or website name, as this will provide clarity for a wide variety of users searching for information.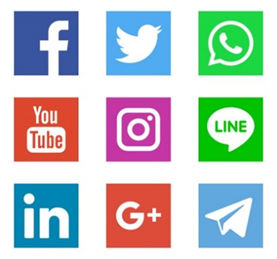 As there are a range of social media platforms available to use, Geoparks need to ensure that they have the resources in place to post and moderate information and respond to users as they can become very time consuming.
Should resources be limited, the marketing strategy may decide to concentrate efforts on one or two platforms which are most appropriate or have the greatest "reach", such as Facebook and Instagram.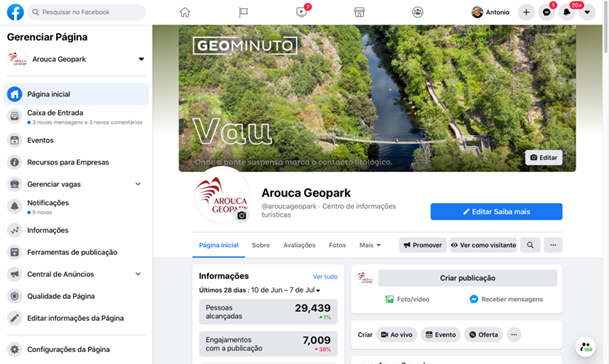 6. Tourism Routes to Market
For the tourism industry, the management of destination and tourism products is important in order to offer an integrated supply of facilities, services and goods.
A good example is an offer based on tourism routes oriented to visitor demand. Such routes offer thematic motivations to encourage visits to a territory and become fundamental in promoting new forms of interaction and engagement. A tourism route provides opportunities for visitors and residents to discover a thematic Geopark story in a different way, be it by walking, biking, horse riding, car or bus. These thematic routes can be further supported by other products such as guidebooks, guided tours or other mechanisms to understand histories and stories.
In Europe, the "Cultural Routes of the Council of Europe" were launched in 1987. These routes demonstrate, by means of a journey through space and time, how the heritage of the different countries and cultures of Europe contributes to a shared and living cultural heritage.
Similarly, cultural routes can encourage the creation of a tourism market within a Geopark which could be promoted by the DMO. The Geopark management authority can provide clear governance and infrastructure enhancements, whilst the tourism route "product" is sold by tour operators and tourism agencies offering a variety of "value-added" services (for example, guided tours, accommodation, restaurants, cultural activities etc.).
7. Case Studies
The case studies showcase Geopark-based marketing and promotion. You can use aspects of these examples in your own Geopark setting by adapting to practical and cultural norms.
Case Study 1, from Fforest Fawr UNESCO Global Geopark, demonstrates how you may wish to start your Geopark's presence on Instagram
Case Study 2, from Armorique Aspiring Geopark, illustrates how a Geopark's visibility can be developed.
Case Study 3, from Arouca UNESCO Global Geopark explaining how a geotourism route for markets was developed.