Social media – getting started on Instagram
provided by Fforest Fawr UNESCO Global Geopark
Fforest Fawr Geopark created an Instagram account @fforestfawrgeopark in April 2018 to help raise the profile of the Geopark. @fforestfawrgeopark now has nearly 2,000 followers and engaged with over 200,000 people in 2019.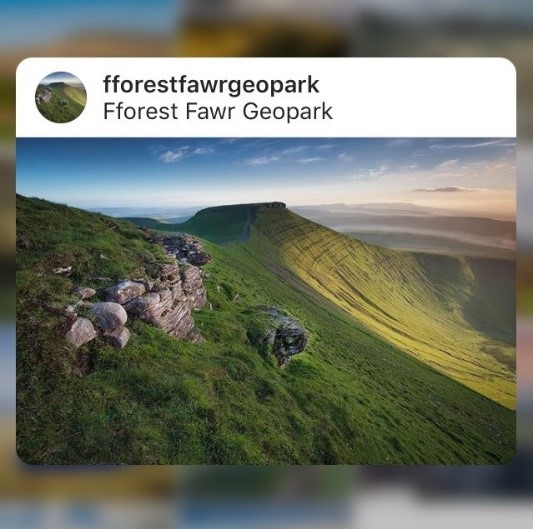 Until 2018 Fforest Fawr UNESCO Global Geopark did not have a presence on social media. The Geopark had a website (www.fforestfawrgeopark) but no supporting digital channels to direct visitors and interested parties to that information source. Through participating in the Interreg Atlantic Geopark's project, Fforest Fawr identified this as an issue and focused on creating a marketing plan which included the development of two social media channels; Instagram and Facebook.
Another challenge Fforest Fawr had was that the Geopark covers the western half of the Brecon Beacons National Park. The double identity meant that often visitors were not always aware of the Geopark.
Instagram is all about the visual image; the perfect platform for showcasing your Geopark. If you are an 'Aspiring Geopark' then appropriate social media channels should be part of your marketing plan.
Here is a beginners' guide to creating an Instagram account and some tips for growing your number of followers.
Content
Before you create an Instagram account take some time to think about how you want your Geopark account to look and feel. It is worthwhile spending some time taking a look at what other Geoparks and organisations are doing, and always consider:
What do you like/dislike?
What do you want to achieve through your account?
Think about themes, messages to followers.
Will you want to promote events?
Who is your audience?
Plan the content for at least a few weeks ahead.
Where will your content come from, have you got photos, videos or graphics?
Fforest Fawr Geopark uses mainly "User Generated Content", which means we share photographs of the Geopark taken by visitors and photographers.
If you do this, use an app such as Re-post to share the image. You can keep the photographer's credit on or remove it. Remember to credit the photographer in the body of the text though.
Remember: It is a good practice to send a message to the creator/owner of the image before you use it, asking for their permission.
Alternatively, your Geopark may want to "Create Your Own Content". For example,you could take your own photographs or use a library of images collected from your Geopark partners. Make sure they are high quality and in focus.
You can upload short videos in Instagram or create an IGTV channel (which works alongside Instagram) if you want to publish longer videos for your audience. Mobile devices work with IGTV video uploads of up to 15 mins long (650MB) whilst desktop browsers allow uploads of 60 minutes (3.6GB).
Creating an account
When creating an Instagram account you should select the business account option. This will allow you to add more details, for example opening times. This account option also provides access to "Insights" on your followers and reach.
Username – create one that is easy to use and find. If possible make it the same as your Facebook username.
Upload a post
Once you have your image you are ready to create a post using the " + " button. If you own the copyright or it is your own image you may want to edit it first using filters.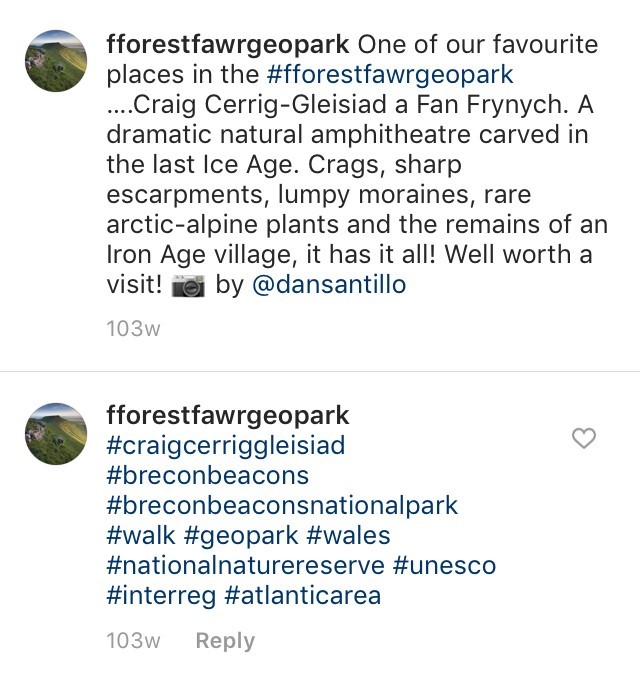 Captions
Instagram is image led but that does not mean you cannot write a caption. Depending on what message you want to get across, a couple of sentences should be enough. Be creative, try a giving the image a title, then leave some space and add a sentence. 
Remember: If applicable credit the photographer.
Get creative with emojis – use a camera emoji instead of the word 'photographer' or a pin next to your Geopark's name to make it clear that is the location.
Hashtags #
You can use up to 30 hashtags, but do not be excessive, 3 – 10 will be enough. Look at which hashtags relate to your content and which ones are popular with a large number of followers. This is one way to increase the reach of your content.
If your Geopark does not have a hashtag then you should create one. Encourage followers to tag you in their photos of your Geopark.
Where to put the hashtags in a post: You can add hashtags directly under your caption, or add them as a comment on your published post. It is a question of style and how you want your content to look.
Tagging
You can tag up to 20 people (accounts) per post. Think about who you want to interact with and who could potentially share your content. This might be other Geoparks, your Geopark partners, local/regional/national tourism boards, visitor attractions, UNESCO accounts. If the image is a re-post, be polite and tag the creator of that image.
Spend some time looking at accounts with large audiences and plan who to tag. They could potentially share your post and increase your reach.
Location
This is another opportunity to promote and highlight your Geopark via Instagram. Add your Geopark as a location if it does not exist. You could also use your region, an attraction or a town as a location.
Being consistent with your Geopark's name raises its profile and other users start using it as a location tag when visiting.
Share to your other accounts
Share your content to your Geopark's Facebook or Twitter accounts to reach an even wider audience!
Add a story
Add your new post to your stories via the paper plane icon under your published post. Have lots of fun with this. Maybe you could add the day, the date and a message? You can use this icon to share other people's posts to your stories too – remember to tag them though using the '@' feature on stories.
Stories are live for 24 hours. However, you can save them to "Highlights" too, for example if you have done a live walk at a geosite and want to keep it for followers to use.
When to post
You should post least once a day, especially if you want to grow your audience. There are lots of articles on the internet about the best times, but mid-afternoon / early evening works well. Try posts at different times and look at insights for what your audience responds to.
Follow!
Do not forget to interact with followers, and follow accounts that are linked to your Geopark; other Geoparks, businesses in your Geopark, local tourism boards, tour providers, visitor attractions etc.
Take the time to "like" and to share photos people have tagged your Geopark in. Comment on them and interact, after all Instagram is a social channel!